Innovative spare parts for wind turbines
Power transmission, shaft grounding, lightning protection and brake linings for onshore and offshore wind turbines
We make the wind turbine reliable, safe and efficient
As a long-standing partner to the wind industry, we set technological standards worldwide. Our carbon brushes and brush holder systems for generators and pitch systems, our reliable lightning protection and grounding systems, and our solutions for low-noise, abrasion-resistant azimuth brake pads are field-proven components used by leading turbine and generator manufacturers worldwide to ensure safe turbine operation.
Our products for wind turbines
High-efficiency power transmission in wind turbines
The generator is the heart of every wind turbine. Here, components are required for which you can rely on absolute quality, performance and reliability. We have the ability to adapt the materials of our carbon brushes precisely to the conditions of the site - for high thermal and electrical load capacity, low-wear running behavior and minimum maintenance intervals, as well as reliable power transmission. This is further optimized in combination with our brush holders, which ensure precise positioning of the carbon brush on the slip ring at all times. The integrated wear indicator also ensures increased efficiency during maintenance and replacement.
Our slip rings are also versatile and designed for different current ratings.
---
---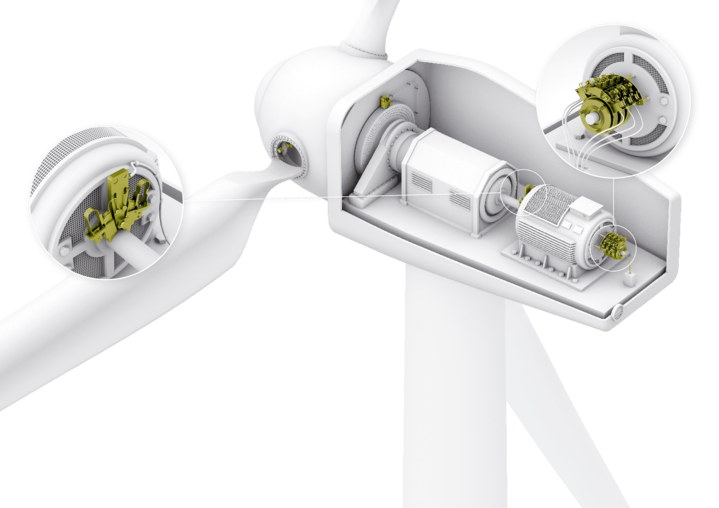 Shaft grounding
powerful and safe
High frequency and parasitic shaft currents can severely damage gear components and bearings. Our grounding brushes reliably divert capacitive currents from the shaft, minimizing repair efforts and downtime of the wind turbine. Grounding brush holders are the perfect complement to our grounding brushes. They are designed to exactly match the grounding brushes you need. By aligning the grounding brushes correctly at all times, capacitive currents can be eliminated even under extreme conditions and at high frequencies. Our carbon fiber grounding contact also effectively diverts high-frequency interference currents away from the shaft. Our innovative system for DC and AC applications contains strands of around 200,000 tiny, electrically conductive carbon fibers. These strands are thermally treated, making them even more conductive and abrasion-resistant - so there is no need for costly coating of the bearing surfaces. In addition customized and standard designs can be assembled in the drive systems even at hard-to-reach places.
---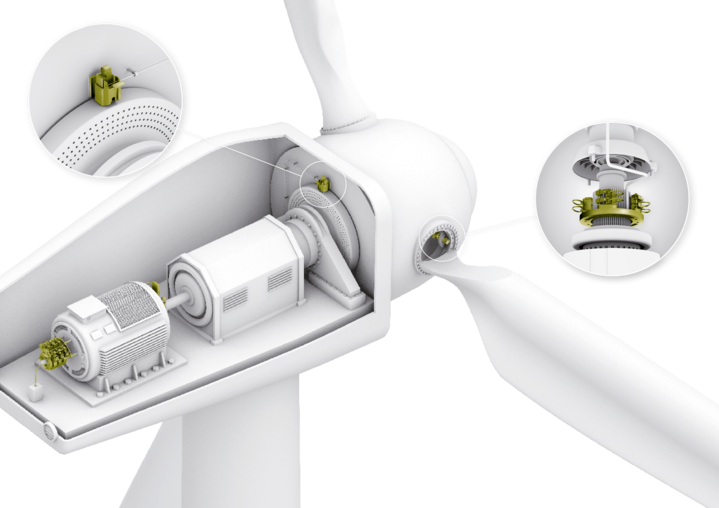 Maximum lightning protection
for wind turbines
Lightning stress can severely damage your wind turbines - our technologically advanced components offer reliable protection here. Under normal weather conditions, they ensure that your turbines deliver maximum yield through precisely pitched rotor blades. Our lightning protection systems meet the highest lightning protection class and the strictest standards - as confirmed by independent institutes. With this excellent lightning protection, you reliably minimize damage, repair expenses and downtime of your wind turbine.
---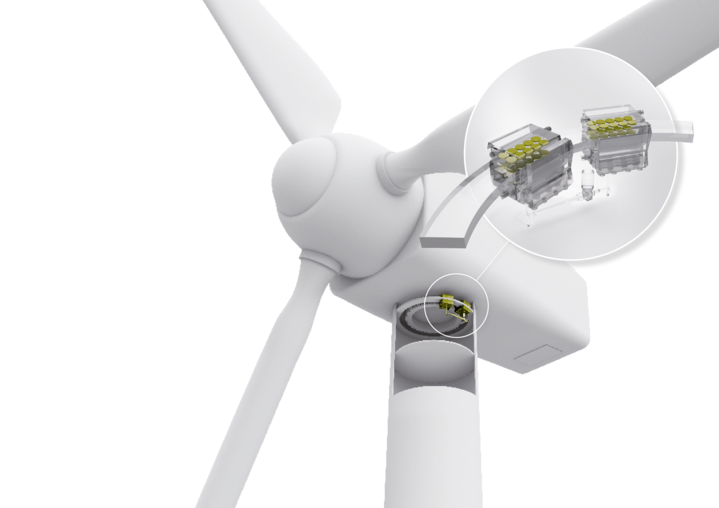 Brake linings
for quiet and long-lasting operation
A major advantage of our brake linings is that they do not glaze - effectively preventing squeaking noises during braking. In addition, Schunk brake pads cause almost no stick-slip effects, which can lead to destructive vibrations. Our brake pads operate with very low abrasion, which keeps the interior of the nacelle clean and prevents important components from being contaminated by brake dust. Thanks to this wear resistance, maintenance intervals can be significantly optimized, which can lead to major cost savings, especially in the offshore sector.